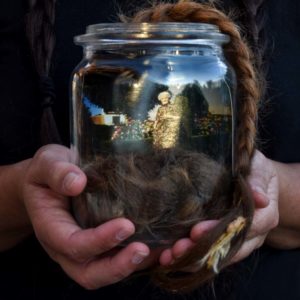 Passages
On going work
Time passes at a speed we cant imagine, and like snow falling, covers our souvenirs.
I reached that age when the adults I grew up  around, are now older and leaving us...
I grew up with them, and even though in my memories they remain as a short encounter, their model built me, influenced me, and made who I am today;
And I wonder, what will stay of them in me, what will I remember last, what will fade first : a gesture, an expression, a color, a smile, a sound, their voices, their eyes…  All kept, tiny and treasured, deep in me.
In Passages, I am gathering old family photos, and make new ones, how was I, as a child, and who I am now ?
Passages
 Projet en cours
Le temps passe à une vitesse que nous n'imaginons pas, et comme la neige qui tombe, recouvre tous nos souvenirs.
J'ai atteint cet âge, où les adultes autour desquels j'ai grandit, s'en vont, tout doucement, sans faire de bruit.
J'ai grandit auprès d'eux et pourtant je ne me souviens d'eux qu'à travers de vieux clichés, souvenirs d'une époque lointaine. Mais ce sont ces personnes là qui m'ont servi de modèle, qui ont fait ce que je suis devenue aujourd'hui, qui ont influencé le cours de ma vie.
Alors que reste-t-il de ces personnes en moi : un geste, un sourire, une couleur, une expression, une voix, leurs yeux, gardés précieusement au plus profond de ma mémoire.
Avec Passages, je réuni de vieilles photos de famille et en fait de nouvelles, comment étais-je enfant, et qui suis-je maintenant?